Choose the right SEO agency: 6 steps to consider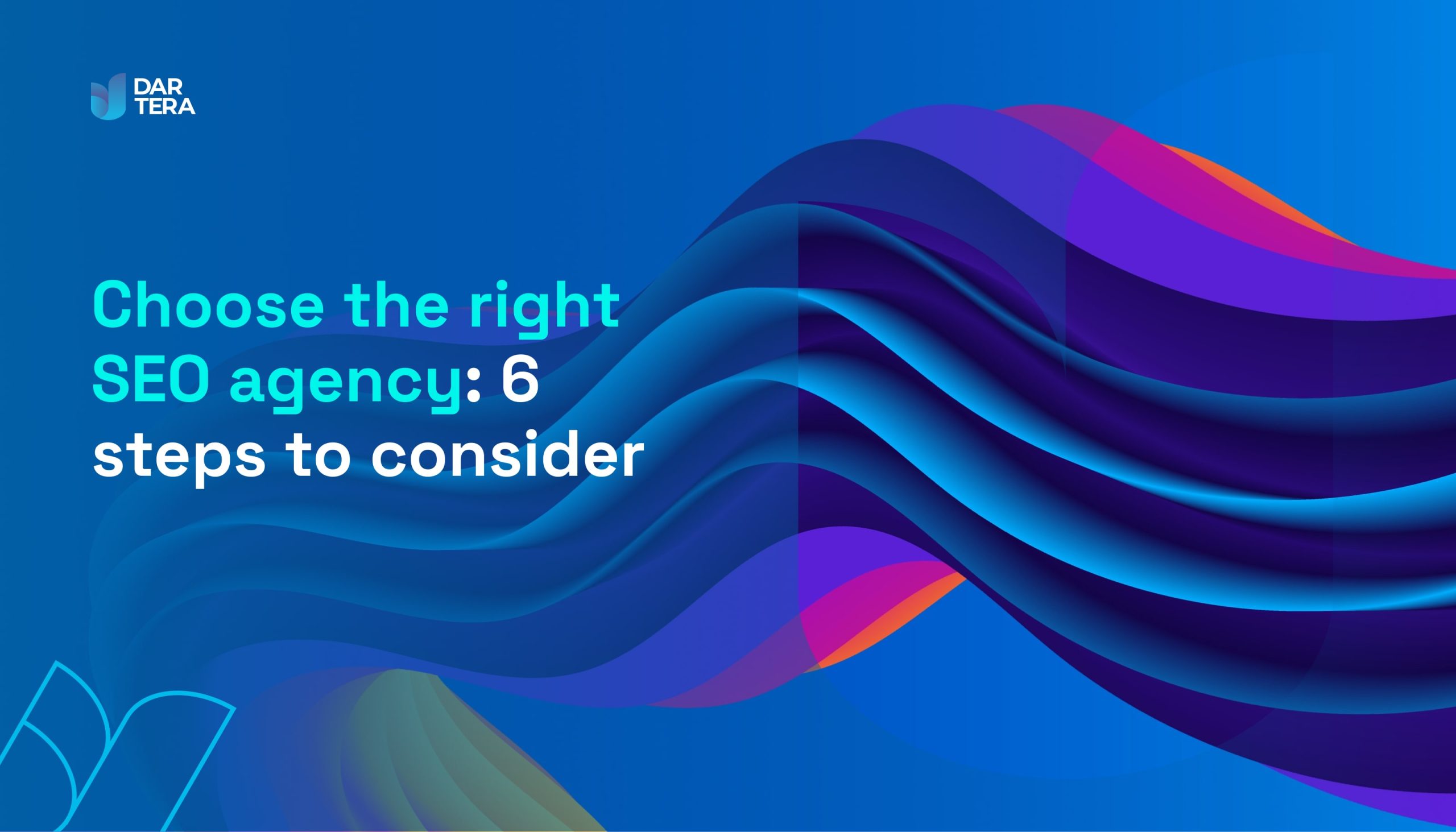 Choosing an SEO agency is not easy - there are countless offers, and all of them seem to brag about incredible results and great company cultures. However, choosing the right company is incredibly important. Paying an agency thousands of francs to optimize your online presence is risky, and one wrong decision can have a devastating effect on your business and your bank account. Choosing the right agency for your business can mean the difference between an increase in organic traffic, better rankings and more conversions, or a decrease in organic search rankings.
1. what are the advantages of hiring an SEO agency?
When you hire a professional agency to manage your online presence, you have more time to focus on your business instead of dealing with algorithms and best practices.
In order for your SEO efforts to be successful, the agency ensures that your website is technically flawless.
A reputable agency will ensure that your marketing, SEO tactics, and website adhere to Google's best practices to avoid Google penalties and provide a better user experience.
A solid strategy will help drive more users to your website and increase your brand's exposure. More traffic and awareness means higher search engine rankings. Experts can identify ways to improve the conversion process on your website. So with more visitors, your conversion rate will also increase.
2. determine your goals and desired results
No SEO agency is one size fits all strategies, industries, and company sizes. Different agencies specialize in different facets of SEO. To determine which agency offers the right services for your business, you need to know your business goals and desired outcomes. It is important that you are clear on each of these points, as one is a beginning step and the other is an end result.
Your business goals are general statements that define the areas of your online presence that you want to improve. Determine the specific goal and the time frame in which you want to achieve it. For example, let's say you want to improve product sales. If you're not sure what areas you need to improve, contact an agency for a digital marketing analysis.
To avoid ambiguity, outline exactly what you hope to accomplish when you reach the goal. These are your desired results. If your goal is to increase product sales, the desired result might be to rank well for certain keywords. A desired outcome is a way to concretize goals.
Take a look at what services each agency offers. This will help you narrow down your search, as some agencies specialize in ranking keyowrds, while others focus on social media.
3. consider your budget
Before investing in an SEO agency, you should consider your budget. How much can you spend? Set a budget and find an SEO agency that will stick to that budget.
Price matters when it comes to SEO. You get what you pay for, so you need to set a realistic budget. Many entrepreneurs fall for agencies that offer SEO for 50 francs per month and do not know that they are being cheated. The SEO companies that advertise these extremely low prices often under-deliver or use black-hat SEO strategies.
Although digital marketing is cheaper than other marketing tactics, good search engine optimization takes time. Search engines are constantly changing their algorithms, and SEO should be a gradual, ongoing process to achieve the best results over time. SEO can't be done overnight, so avoid agencies that charge a one-time fee. A better way to do SEO is to have a monthly or annual contract to ensure that the agency maintains results and continually improves your website.
4. pay attention to SEO guarantees
If an SEO expert promises results in a certain time or a top Google ranking - run away. SEO agencies have a good idea of how to achieve optimal results, but Google algorithms are constantly changing. Be wary of agencies that guarantee certain results, because there is no way to predict a website's SERPs.
Even though you probably want results, SEO does not provide instant results. In most cases, it takes three to six months to achieve success. This can be frustrating and cause smart people to fall for black-hat SEO strategies.
Black hat techniques describe unethical SEO tactics that violate search engine rules. With black-hat SEO, you may show up quickly in search results, but you will quickly fall. Once Google's bots find out that you are using these tactics and tools, they downgrade your website in the rankings, which leads to a drop in organic traffic. Google may even prohibit your website from appearing in search results.
Black hat SEO strategies include:
Purchase a variety of links from any website
Using a computer program to create hundreds of pages of bad content
Use of duplicate or cut content
Submitting fake press releases to spam links
5. contact with former or current customers
Next, contact current or past customers to gather references and learn more about their experiences. This will give you insight into the agency's strengths and weaknesses, as well as its strategy and reporting process.
Ask the agency about the companies it has worked with in the past and ask those clients for first-hand testimonials. So you can rest easy when you hire an SEO agency to work for your business.
You can also check review websites like Google and Facebook to find reviews and more details about each agency. Also visit social networking sites to get a better sense of the work culture.
All this information can help you find the best SEO agency for your business. You can also help narrow down your options so you can focus on the agencies that meet all the requirements on your list.
6. insight into the portfolio of the agency
Any good company that promises results should be happy to show you case studies to prove that they have actually delivered the results they promised.
Most agencies have examples of case studies on their website, if not, you should ask for a portfolio. The case studies should demonstrate the results of their performance and demonstrate their expertise and skills. This will give you an idea of what to expect from an SEO campaign.
With proof of an agency's performance, you can confidently schedule a consultation.
Schedule a consultation
Before you sign a contract with an agency, schedule a meeting to discuss the action plan. It is important to build a trusting relationship with your SEO agency. So take this opportunity to find out how well you get along with the team.
Some agencies even offer a free website audit or initial keyword and competitive analysis before you partner with them.
Take into account that SEO is a complex process. However, with an experienced agency, your website will be more easily understood by search engines, increase online visibility, and improve usability.