Create your own website: The most important tips and tricks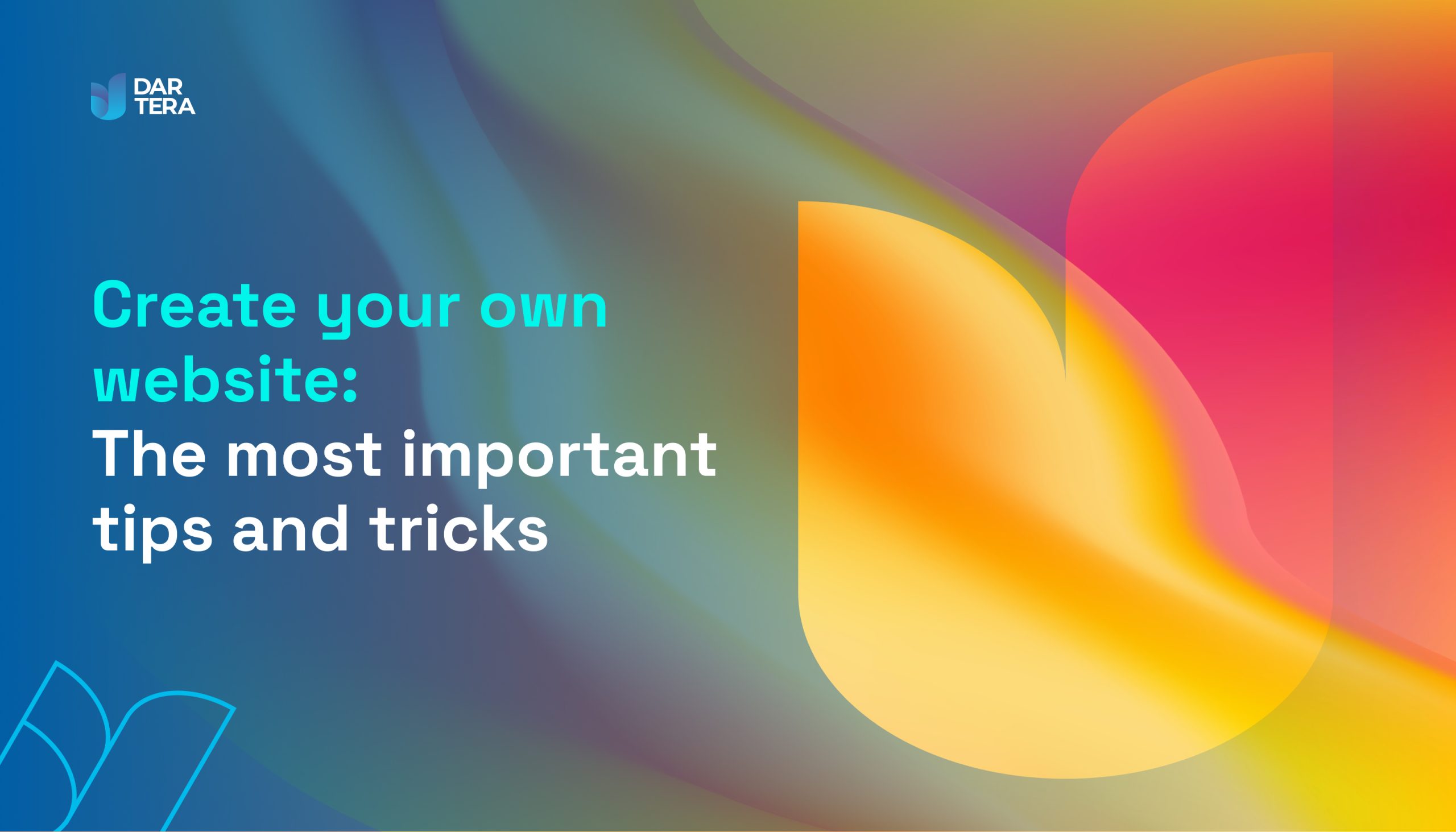 Introduction
A successful Internet presence is nowadays the first choice for companies, self-employed as well as associations and organizations to be present online and to reach potential customers or members. But how can you create a professional homepage without having programming skills and a lot of effort?
In this blog post, we would like to provide you with the most important tips and tricks to create a successful website/websites with a homepage builder. We compare different providers and show you which functions and features you need to make your website successful. Learn how to use a website template and SEO tools to optimize your website for search engines and attract visitors to your site.
Whether you want to create a homepage yourself, be it for a small business, a club or a personal internet presence - with our tips you will succeed in creating it with minimal effort and costs and without any previous knowledge.
Step 1: Choose a domain name and hosting platform
To create a website yourself, you first need a domain name and a hosting platform. The domain is the internet address where your website will be accessible later, for example "meinewebsite.ch". The hosting platform is the place where your website is stored and available online. Without these two requirements, you cannot start creating your own website.
There are various providers for domain names and hosting platforms, including some Swiss hosters such as Hoststar, Infomaniak or Hostpoint. It is advisable to compare the offers of different providers and choose the one that best suits your requirements and needs. You should also keep an eye on the quality of support in case you ever need technical help.
If you don't have an idea for a domain name yet, you can get inspiration from other websites or businesses in your industry. Make sure the name is short, concise and easy to remember. Avoid umlauts and special characters to ensure that the domain name works well internationally.
Once you have chosen your domain and hosting platform for your website design, you can get straight to work designing your website. In the following steps I will show you how to create a professional website with a homepage construction kit - without any programming knowledge or being a developer and with a user-friendly interface.
Here you can find more information about domain names and hosting platforms on Wikipedia: Domain and Web Hosting.
Step 2: Install WordPress on your hosting provider
After you've chosen a domain name and a hosting platform, it's time to install WordPress, a content management system (CMS) on your server. In this example we use Hostpoint, a leading Swiss hosting provider.
Log in to your Hostpoint account and go to the Control Panel.
Click on "Web pages".
Click on "One-Click Apps -> "Available applications" and select Wordpress and click "Install
Select your domain where you want to install WordPress. Also choose your preferred language and accept the terms and conditions.
Click "Install" and wait until the installation is complete.
Once the installation is complete, you can log in to your WordPress website and start building your website.
It is important to note that there are other hosting providers that you can use for your own website. Compare different providers and choose one that fits your needs and budget.
Tip: If you come across technical terms for which you have no explanation, you can look them up on Wikipedia and give yours an overview.
Step 3: Select and install theme
After installing WordPress, the next step is to choose the theme. A theme is a design template that determines the appearance of the website. There are many free and paid themes that are integrated with WordPress. To choose the best theme, you should follow the tips below:
Research: research various topics on the internet that suit your tastes and needs. Also check if the theme meets your requirements for responsiveness, SEO and load times.
Ratings and Reviews: Read the ratings and reviews of other users of the theme to determine if the theme is a good choice. Also pay attention to possible weaknesses that the theme might have.
Functionality: pay attention to the functionalities offered by the theme. It is important that the theme provides all the necessary features to make your website look its best.
Customizability: check if the theme is customizable. A good theme should offer the possibility to customize colors, fonts, images and other elements of the website.
Compatibility: make sure the theme is compatible with the latest versions of WordPress and any plugins you want to use.
Building kit: There are many different homepage builder systems on the market that allow even non-professionals to create an appealing website. The choice of the right construction kit depends on various factors, such as one's own level of knowledge, the desired functions and the available budget. It is worth comparing different homepage building kits providers and taking your time to choose the right one. It is important that your theme supports this, we recommend Elementor.
A good option for themes are also premium themes that offer many additional features and options. Some recommended premium theme providers are ThemeForest and Elegant Themes.
When choosing a theme, you should also make sure that it is a good fit for your business and industry. It should create the right ambiance for your website and present your content in the best possible way.
Once you have downloaded or purchased the theme, you can add it to your WordPress dashboard under Design -> Theme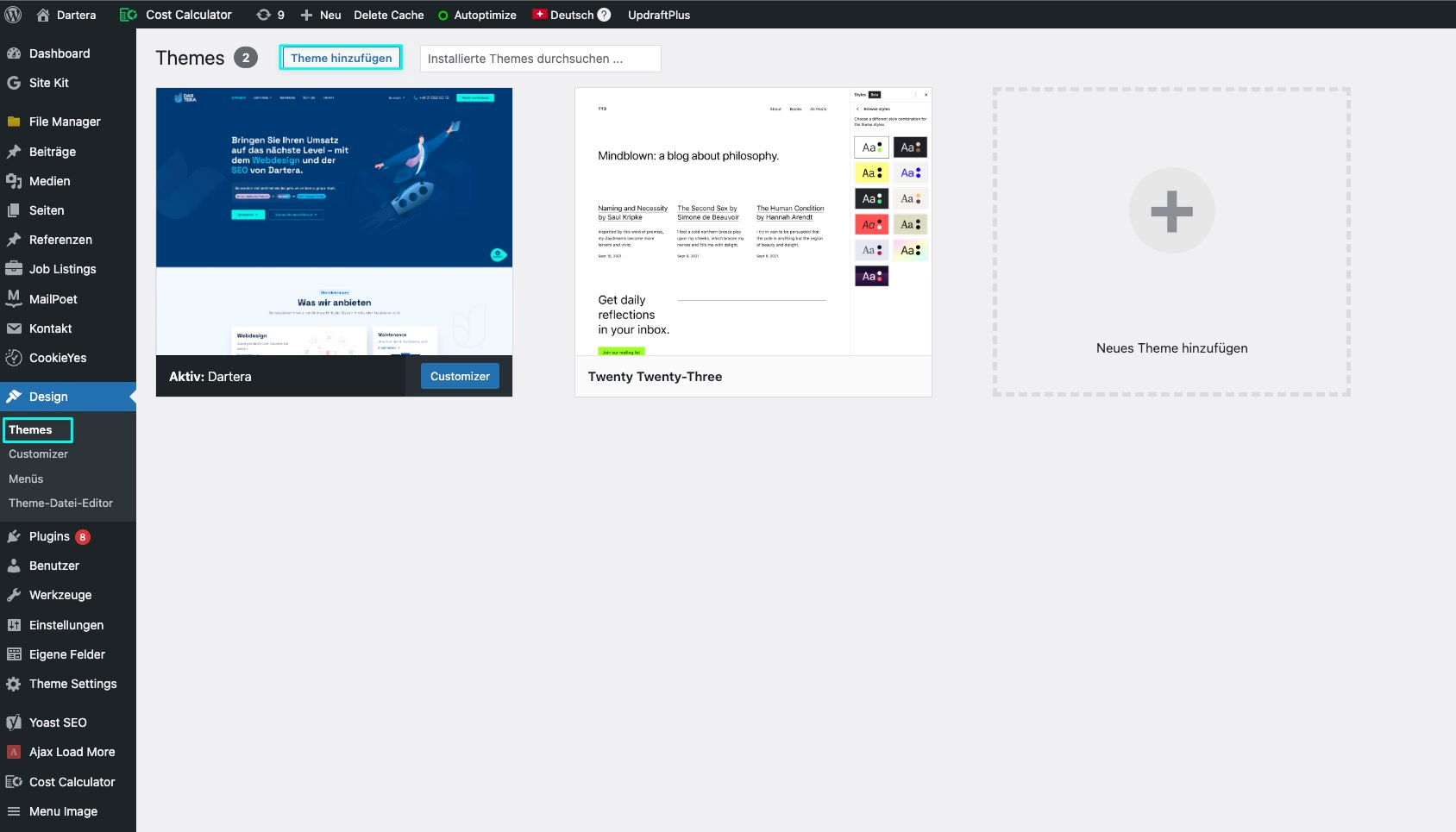 Step 4: Customize the theme
Of course, you don't want to just use a default theme, but also customize it to your needs. This means that you can change colors, fonts and other design elements to customize the look of your website.
Here are some tips on how you can best do that:
Start by customizing the colors and fonts of your theme to match your brand.
Consider what elements you want to have on your site, such as contact forms, social media links, testimonials, or a blog.
Decide where to place these elements on your page to maximize user experience.
Customize the design of each page, for example, by using different backgrounds or layouts.
If you are technically savvy, you can also make your own CSS or HTML changes to further customize the theme.
Don't forget that the theme must be compatible with the features and plugins you want to use on your site.
Customizing your theme can take a while, but it's an important step to make sure your website looks professional and fits your brand.
It is important that your Responsive Design is responsive and user-friendly to retain your visitors and attract new customers. Please take your time to customize the theme and test different options to get the best result.
Step 5: Create content
After the structure and design of your website are in place, it's time to create content. The type of content depends heavily on the purpose of your website. A page is usually static and provides information, while a blog is more dynamic and updated regularly. A blog is good for posting news, opinions, or trends in a particular field, or showcasing your work as an author or artist.
Pages
For example, if you are creating a company website, you probably want to provide information about your company, products or services, and contact information. For this we use the "Pages" function of WordPress: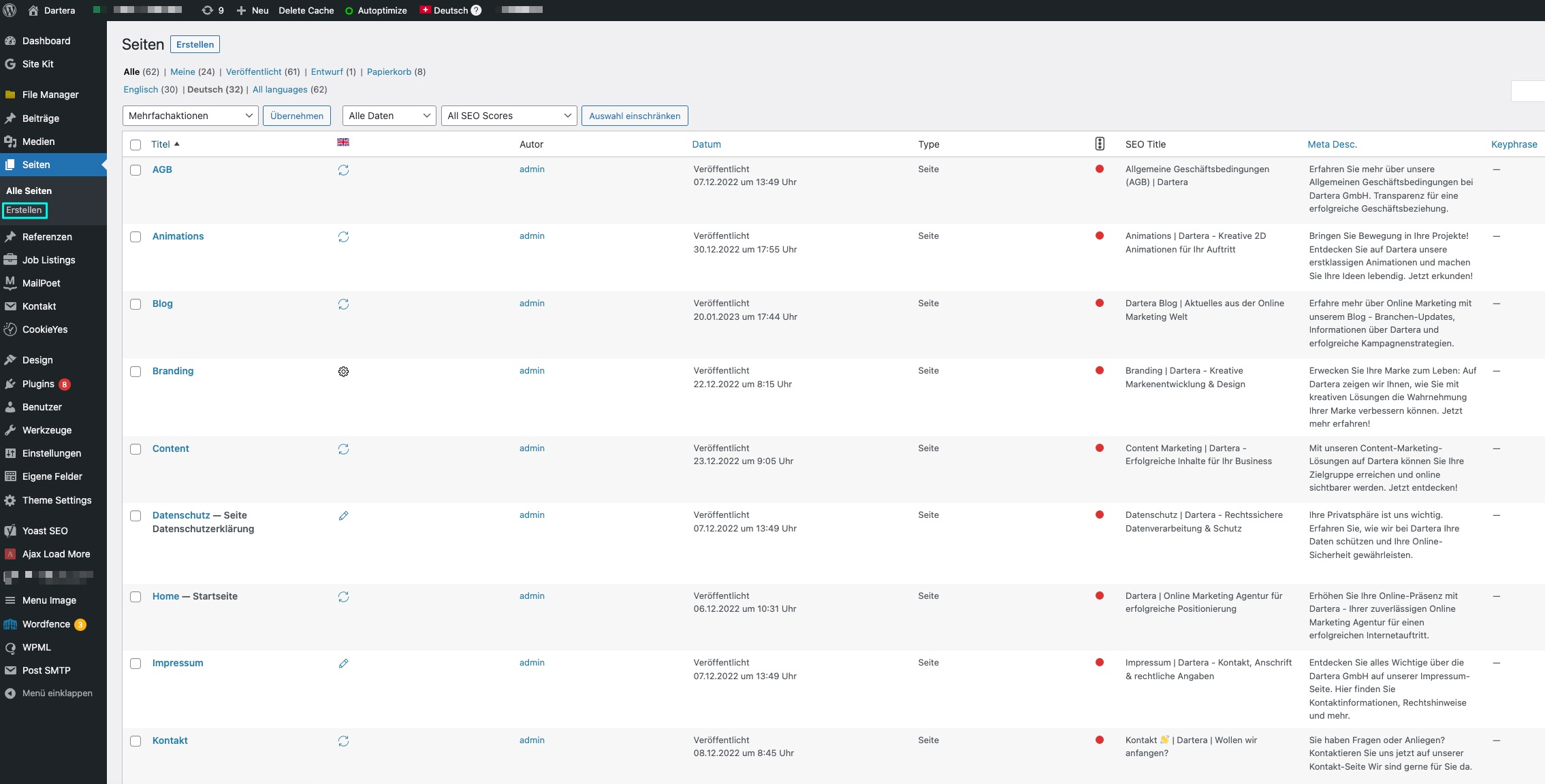 Blog
If you want to create a blog, it is important to regularly publish new and interesting content to attract and retain your readers. Unlike a static website that mainly provides information, when blogging you need to make sure that you continuously publish new content. There is a difference between a website and a blog:
Create content
Whether you're creating a website or a blog, it's important to create relevant and interesting content to attract and retain visitors. Make sure your content is well structured for easy reading. Use images, videos, or other media to break up and enhance your content. If you don't have the time or skills to create content yourself, there's always the option of hiring a professional writer or designer to ensure your content has the desired effect.
Now it's time to create the actual content of your website. Here, it is important to keep your target audience in mind and create content that is relevant and interesting to them. The following tips can help you:
Define clear goals for your content and focus on the needs of your target audience.
Use images and videos to make your content more vivid and engaging.
Make sure your content is clearly structured, for example, by using headings and paragraphs.
Avoid too much technical jargon and write in an understandable and simple way.
Use keywords to make your content search engine optimized to be found better and get more clicks.
Add call-to-actions and your email address to motivate your visitors to take action, such as buying your products or filling out a contact form.
It is also important that the content is compatible with the chosen theme. Make sure that the design of the website harmoniously matches the content created. With these tips, you'll be well prepared to create engaging and relevant content for your website.
Step 6: Publish your website
To publish your website, you need to make sure everything is working properly and your content is complete. Here are some steps to consider to make your website launch successful...:
Social media: Use social media and other digital channels to promote your website launch. Create a post to inform your followers that your website is online.
Inform existing customers: Make sure you inform your existing customers about the website launch. Also give them clues about where to find what they are looking for on the website.
Security and privacy: Make sure your website is secure and your user data is protected. Also offer a privacy policy. You can create one using SwissAnwalt's generator.
Imprint: According to Swiss law, every website must have an imprint. The imprint serves to ensure that visitors to the website know who is responsible for the content and how they can contact the website operator. You can also use the imprint generator from SwissAnwalt for this.
SEO Optimization: Make sure your website is optimized for search engines so you can be found better in search results. Use relevant keywords and optimize your meta descriptions and title tags.
Test your website: Make sure your website works on different devices and browsers, and that all links and forms work properly.
Tracking: Implement a tracking tool like Google Analytics to monitor user behavior and website performance.
Updates: Schedule regular updates and improvements for your website to keep it current and attractive.
By considering these steps, you can ensure that your website launch is successful and that your website attracts and keeps visitors.
Step 7: Maintain your website
You have created your own website and put it online. But that is only the beginning. A successful website requires continuous maintenance and updating to stay relevant and attract visitors.
An important measure for the maintenance of your website is the regular updating of content. Make sure your website is always up to date by adding new blog posts, products or services and updating or removing old content.
Additionally, it is important to optimize your website for search engines (SEO). Use SEO tools to optimize your website for specific keywords and increase your visibility in search results.
Don't forget to back up your website regularly to avoid data loss. Many website builders offer automatic backup features to help you do this.
Conclusion
Congratulations! You have managed to create your own website using Dartera's tips and tricks. Whether you are creating a website for your business or just a personal website, creating your own website has never been easier or more accessible.
We have shown you that you don't need programming skills to create your website yourself. Thanks to the numerous website building kits and free providers on the market, it is now possible for anyone to create their own website. With drag-and-drop capabilities, a variety of themes and templates, and numerous features and tools, you have everything you need to create a professional-looking website.
It is important to think about the design and content before creating your website, so that your website is appealing and informative for your visitors. With proper search engine optimization (SEO) and maintenance of your website, you are well on your way to attracting more visitors and potential customers.
We hope that our tips and tricks have helped you to create your own website by yourself. If you need further assistance, contact your vendor's support team or hire an agency or web designer like Dartera. With your own website, the sky's the limit and you can take your online presence to the next level.
So here we go! Create your own website and show the world what you have to offer!